Thornbury Choral Society
Thornbury Choral Society grew out of Thornbury Music Club and Choir founded in 1963. Our conductor, Steven Kings, joined us in September 2005. The Society's main concerts, usually with full orchestra, are held in May and November. Performances in recent years have included works by composers as varied as Bach, Elgar, Carl Orff, Mozart, Tippett, Kurt Weill and Verdi and the choir has just performed Elgar's The Dream of Gerontius to great acclaim. The choir will be  hosting a Workshop on Brahms German Requiem on February 23rd 2013 at Thornbury Baptist Church (for booking form contact Jos Gregson on 01454-411652 or by email This e-mail address is being protected from spambots. You need JavaScript enabled to view it ) or download a form from this website under Workshops.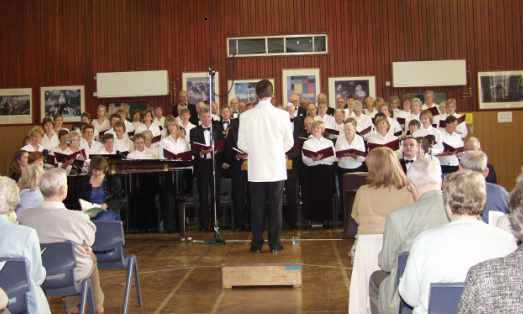 Competent singers are always welcome to join the Society and the usual membership is around 100. Rehearsals are held on Monday evenings at the Thornbury United Reformed Church between September and May starting at 8.00 p.m. We resume rehearsals on January 7th 2013 for our concert on May 18th 2013. We will be rehearsing a mixed programme to celebrate the 50th Anniversary of the founding of the choir with Bernstein's Chichester Psalms, Britten's Rejoice in the Lamb, Handel's Zadok the Priest, Janacek's Otcenas (Our Father) and a new commission by our Music Director Steven Kings called Care Charming Spells.
If you would like to try us out at a couple of rehearsals or would like more information please ring either the Chairman, Alison Makepeace on 01454-415019 or the Secretary Jos Gregson on 01454-411652. There are no auditions required.